As the sun shines on the green grass of Anfield on the opening day of the season."This year will be our year" is what Liverpool fans feel deep down in their heart. The magic of the Kop end, the rendition of the Beatles song – You'll Never Walk Alone and the storied history of the club moves even the firmest of hearts.
But then that dreadful moment comes when the cruel realization is that it was all but a dream, disconnect to reality.
"Next year will be our year".
This is the popular internet joke about Liverpool fans and their tragicomic wait for a Premier League title for almost 3 decades. If Shakespeare was alive today he would be a Liverpool supporter. A fan base forever in a romance with its club only to have its heart broken each year.
While Manchester City is well on their way to win the league title this year, Liverpool fans have reason to be optimistic about the next 2-3 years.
In the last decade, only two Liverpool sides had come close to winning that elusive Premier League title. The first time was under Rafael Benitez and the second was in the 2013/14 season under Brendan Rodgers.
While Rodgers's side was noted for its dazzling attacking football and the sheer roller coaster ride that was the 2013/14 season, the squad at that time was massively imbalanced.
 The Famous "S-A-S combination" carried the team with Luis Suarez and Daniel Sturridge contributing a massive 50+ goal tally between them and Raheem Sterling playing a supporting role.
However, what was clear from the start that the team was abysmally imbalanced when it came to the defence. As many sweet memories, Liverpool fans have of Suarez playing as a "false 9" they still remember the nightmare of defenders like Kolo Toure playing as a "false 5″.
Although many remember the infamous Steven Gerrard slip as the moment Liverpool lost the league title, the game that followed against Crystal Palace summed up exactly what was wrong with Brendan's Liverpool team as they lost a 3-0 lead in the final 20 minutes of the game.
Rafa Benitez's side was far more balanced all-around. The almost Rush / Dalglish-esque chemistry between Fernando Torres and Gerrard. A stable double pivot of Xabi Alonso and Javier Mascherano and a defence that could hold it's own. Added to this the spine of the team was surrounded by good utility players like Yossi Benayoun, Albert Riera, and co.
However, while this team did very well in cup competitions or in big games in the league, they could not show the level of consistency needed to win the league.
But what makes the Klopp's Liverpool the team that can finally break the long wait?
#1 Jurgen Klopp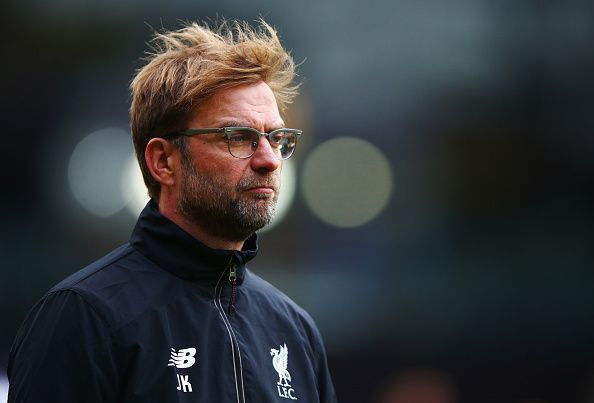 The manager is the most important ingredient to win a league title as winning it requires a team that can be consistent for 10 months.
What Klopp has going for is his recent experiences with building a team and getting that team to punch above its weight to win a league title given his experience at Borussia Dortmund.
An added advantage is his heavy metal style of football that is not all about beautiful attacking patterns alone but based on hard work all around.
The average distance covered by a Dortmund player at times under Klopp's reign was 1 km per player, far more than the opposition.
However, let's also keep in mind that he does not have the kind of financial resources Pep Guardiola has at Manchester City. This means his work on the team both in training and in recruitment has had to be slow and gradual.
Klopp, however, has his flaws. In Germany, as regular Bundesliga fans will note, the culture of football is very different from the Premier League. Inferior sides, almost as a matter of principle, try to play the ball out of the back on the ground. In England, however, managers and teams of lesser sides could not care less about sitting deep and playing the long ball by-passing Klopp's "gegenpress" in its entirety.
Klopp's one-dimensional tactic certainly shows when he is successful against the bigger teams in England but repeatedly gets tripped up by the lesser opposition as recently witnessed in the loss to Swansea after being the first team this season to beat Manchester City in the league.
Klopp, while talented has to evolve and find a plan B and a plan C if he is to succeed.
Where he does get unfairly criticised is the comparison of his winning percentage to that of Brendan Rodgers. Rodgers benefited massively from having two players in Sturridge and Suarez scoring 50+ goal together in a single season. Something Salah and company don't even come close to replicating.
We will now take a look at the signings Klopp has made and is in the process of making to take Liverpool to the next level.
The author wishes to add the caveat that signing players alone don't win you titles and a lot of it will depend on Klopp's own evolution as a coach and how he integrates them.
#2 The attack
This is obviously the best part of his team as of now. The attacking line has many similarities to the Dortmund attack. Pace coupled with relentless pressing. Winning the ball in the opposition defensive third by pressuring the opposing goalkeeper and defenders into making mistakes and after that getting into a 3v2 situation or a 2v1 situation and scoring.
This is what served Dortmund so well in their title-winning seasons.
Salah – Firmino – Mane form very mobile front 3 and not to mention the hardworking Adam Lallana and Alex Oxlade-Chamberlain being available to play in this dynamic front 3 when required.
The one requirement Liverpool has on here is to bring in 15 goals forward to be an alternative to Firmino when the latter is injured or out of form. Possibly even being an upgrade.
According to news outlets like The Express, Liverpool has also been rumoured to be interested in Leicester City winger Riyad Mahrez – a player who could take some of the goalscoring burden off Salah.
#3 The midfield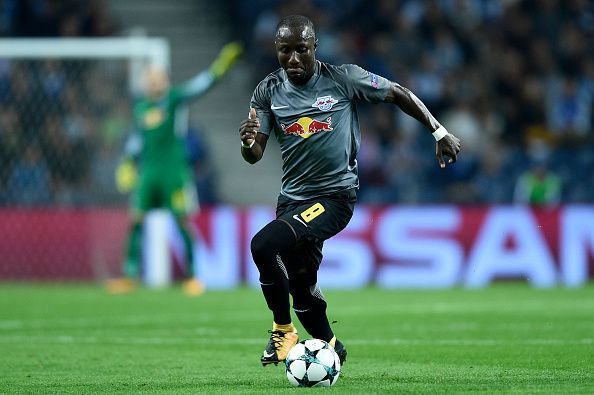 While the loss of Coutinho is no doubt a blow, there is a player who can transform Liverpool the way N'Golo Kante helped Chelsea bounce back to winning the league last season. Enter Naby Keita.
While we are not going in depth into this player statistically, this a player who at times averages more than Lionel Messi by 25% in terms of dribbling success rate carrying the ball through a crowded midfield skillfully. What makes it even better are his extremely high tackling and interception rates which average at times 75-80% to that of N'Golo Kante.
He could be the missing piece that takes Liverpool to the next level, transitioning the ball from defence to offence but also winning midfield battles despite his small stature physically.
Alex Oxlade-Chamberlain meanwhile has started showing signs that a box to box midfield role is his true calling. His jack of all master of none coupled with a good amount energy that Klopp's system requires makes him the perfect second box to box player along with Keita.
With Henderson holding the midfield – these three can be the perfect midfield trio Klopp needs.
#4 The defence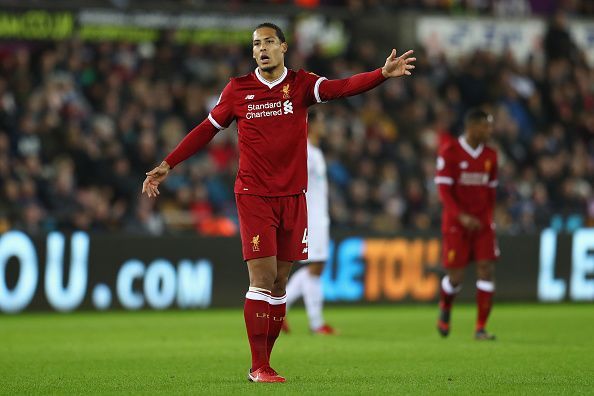 In defence, Liverpool made a clear statement of intent and by signing Virgil van Dijk making him the most expensive centre-half. The centre-backs Liverpool have at this time are not bad players per se, but what hurts Liverpool often is a clear lack of leadership in the back-line.
If van Dijk can show the kind of leadership to organise the Liverpool back four, the way the likes of John Terry and Nemanja Vidic, for example, did for their respective clubs then a lot of Liverpool's issues will be solved defensively.
Where Liverpool could make its defence stronger is if they add a left-back who would be an upgrade to their current options.
Ryan Bertrand of Southampton and Alex Telles of Porto are good candidates that are worth considering. The latter has been linked to Liverpool this month in Portuguese media outlets such as Ojogo.
#5 The goalkeeping conundrum could end this summer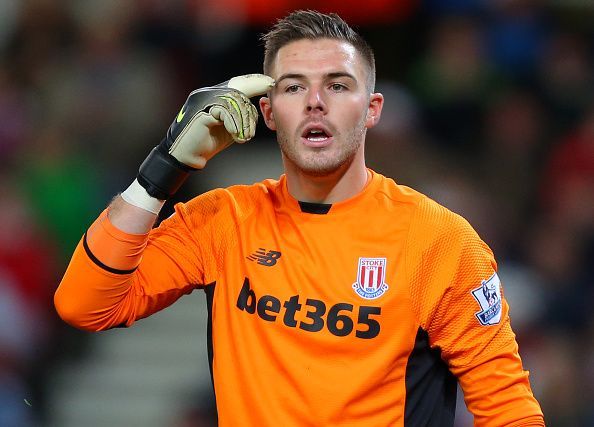 Let us be clear- for a team to be consistent enough to win the league title, it needs a consistent and solid shot-stopper.
If we look at the list of keepers that won the Premier League in the recent years all the names barring that of Kasper Schmeichel are/were elite keepers at the time. There is no question that the likes of Edwin van der Sar, Petr Cech, David De Gea, Thibaut Courtois and Joe Hart played a crucial role in helping their teams win the title. True, that Hart and Cech have fallen off the curve in the last two years or so but at Chelsea and Manchester City they won 4 Golden Glove awards each.
Simon Mignolet and Loris Karius have not proven the consistency it requires to be called as dependable keepers who the club can trust. Even the staunchest of Liverpool supporters would admit that rank pretty poorly amongst fellow Premier League keepers let alone in Europe.
Luckily for Liverpool fans, the club has reportedly been looking at Goalkeepers to bring in.
Jan Oblak, the reigning number No.1 of Atletico Madrid who the Express has linked to Liverpool is perhaps the best option. The Slovenian has conceded only 13 goals in 26 games taking his tally to 79 clean sheets in 139 matches for the club – an astounding 57%. However, it is unlikely that Atletico will be willing to sell.
Gianluigi Donnarumma is another highly rated player but will cost record money.
Perhaps the answer lies closer to home. Jack Butland is a promising talent who could prove to be far more reliable than the current options Liverpool has.
Either way, Liverpool must address this issue sooner rather than later to challenge for the title.
Conclusion
Winning a Premier league title is never easy.
To do so a team must show grit, determination and a high level of consistency. The Hallmark of a champion is grinding out results even while not playing well and against the most stubborn opposition.
Liverpool is making step-by-step improvements. Certainly, in the transfer market, they seem to be making some astute decisions.
And in Klopp, they have a talented young manager with the potential to learn and grow with the squad.
While the Author is not a Liverpool fan, it must be said that Liverpool are not as far away from winning the Premier League title as people would think. There are many caveats in this equation without a doubt, but in a league where Leicester can win the title, it would be unwise to rule out Liverpool making a splash once again.