This is a Liverpool side capable of going toe-to-toe with anyone, but it still isn't as perfect as City or the other powerhouses across the continent.
The attack is frightening; the midfield is soon to get noticeably stronger; there are good, young full-back options; and a new-found depth within the squad has also been established.
It is a jigsaw that is edging slowly towards completion, and with every signing that Klopp makes, the more this team looks like one that can produce real magic in the coming years.
Philippe Coutinho's departure was obviously a major blow, but as the Reds showed on Sunday, and in the past, he is far from indispensable.
 The Brazilian is an exceptional footballer, but he didn't always feel like an archetypal Klopp player. The man coming in certainly does.
Naby Keita represents one of Liverpool's most exciting midfield signings in years, and his many admirers laud him for sometimes being two players for the price of one, such is his influence.
The middle of the park has looked a little one-dimensional on the Reds' poorest days under Klopp, but Keita will make such an enormous difference in that respect.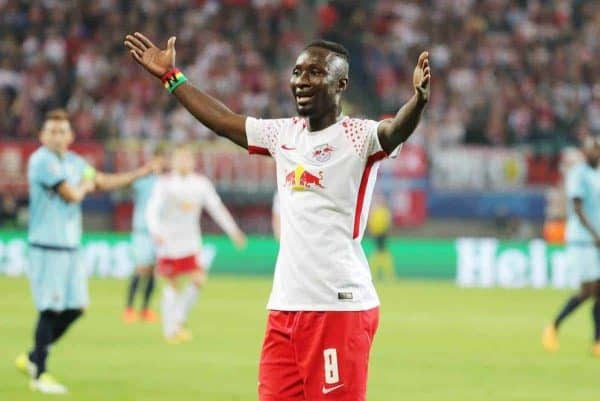 It is heartening to know such a coveted individual has already signed on, and we can look forward to his brilliance from the summer onwards.
Virgil van Dijk was an equally noteworthy purchase this month, with the Dutchman widely considered to be one of the Premier League's best centre-backs.
He showed on his debut what a colossus he is at both ends of the pitch, and had he been fit to face City, Liverpool would not have surrendered those two sloppy late goals.
Keita and Van Dijk will have a seismic impact at Anfield, and with all other bases covered, barring some squad additions here and there, there is one more major reinforcement needed: a new goalkeeper.
Simon Mignolet and Loris Karius are nowhere near the desired quality to play regularly, and the difference a top-quality stopper would make cannot be overstated.
 Brazil No. 1 Allison has been linked with a move to Merseyside, as has Atletico Madrid's Jan Oblak—sign one of those and it really is arguably jigsaw complete.
Unfortunately, this is a road we have been down too often in the past, and past managers have never quite managed to perfect things.
Past "Final Piece" Failings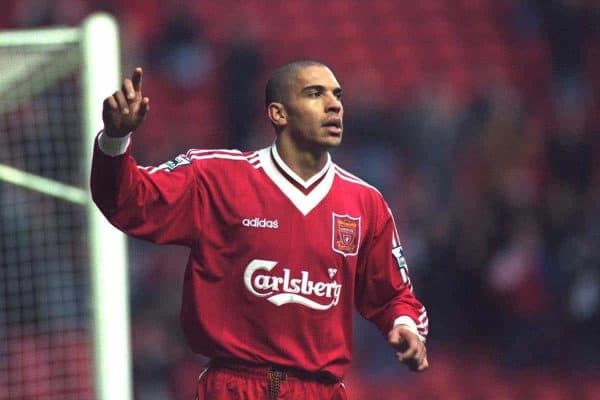 There is a reason why Liverpool have not won a league title in nearly 28 years—they have never quite possessed the same flawless teams many of the champions did.
Graeme Souness, Roy Evans, Gerard Houllier, Rafa Benitez, Roy Hodgson, Kenny Dalglish and Brendan Rodgers have all tried and failed, but there has always been at least one area that wasn't good enough.
In the cases of several Reds side since 1992, most notably those managed by Souness and Hodgson, there has been far more than just a tweak needed here or there!
When it comes to failed jigsaw-completers, there are a number of examples that spring to mind—signings that looked like game-changers, who were expected to help end the barren run without league glory.
Stan Collymore felt like a pivotal arrival in the summer of 1995—someone capable of dovetailing with Robbie Fowler and wrestling the title away from a painfully impressive Man United side.
Despite a strong start, however, Collymore never reached his potential, which was vast. He had everything as a player, barring the drive and attitude to make it to the very top.
The Reds were generally considered a soft touch under Evans, and the capture of Paul Ince from Inter Milan in 1997 was expected to see him add steel to the team and let the more expressive players thrive around him.
That never materialised, though, with the self-proclaimed 'Guv'nor' not the same imposing figure that had shone at United earlier in the decade.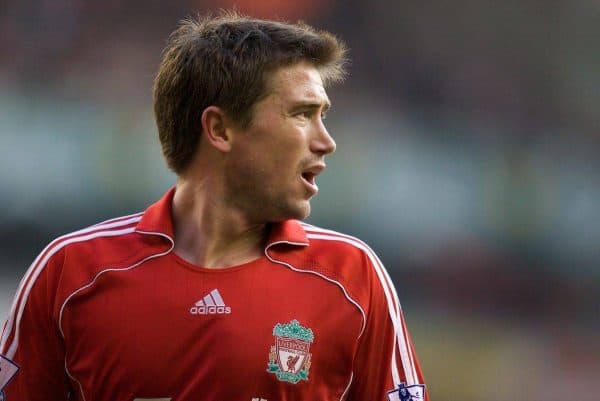 Harry Kewell was a signing that saw Liverpool fans left optimistic in 2003, with the Australian proving to be one of Europe's best left wingers at Leeds United.
He did fine overall but never came close to hitting the heights many expected, with left-wing seen as the one weak area under Houllier prior to Kewell's arrival.
 Robbie Keane appeared to be the perfect foil for Fernando Torres ahead of the 2008/09 season, feeding El Nino on a regular basis and producing class of his own, but he was sold just six months after arriving.
In fact, that side is still Liverpool's best of the Premier League era, but the reason they were again pipped by United was because of a lack of depth and not enough brilliance in wide areas.
It was so close to being perfect.
The class of 2013/14 lacked a leading centre-back and a goalkeeper superior to Mignolet—had they obtained both of those, they would have ended up lifting the trophy.
The majority of the United, Arsenal, Chelsea and City sides who have won the Premier League were bordering on faultless.
This is the level Liverpool must reach under Klopp, and the current signs are good.
"We're Close, So Bloody Close"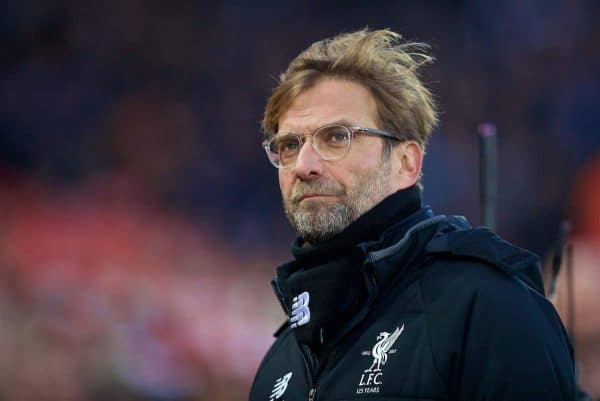 Though some sections of the Anfield support are yet to be fully convinced of the quality of Klopp's squad, we have witnessed few better since the glory days of the 1970s and 1980s.
Ignore the league table, which isn't always definitive proof of how the top 20 teams deserve to be ranked, the Reds are the second-best team in the country right now.
The Guardian's Sachin Nakrani, also a This is Anfield contributor, gave his thoughts on whether he thinks the jigsaw is nearly done.
"We're close, so bloody close. I've never been so certain," he said.
"Don't believe me? Looked how we battered City on Sunday… well actually we didn't, and that's ultimately the problem.
"Liverpool should've won 4-1, maybe even 5 or 6-1. They had broken the best team in the land and deservedly so. But by the end they were hanging on for dear life. Why? Because the goalkeeper isn't good enough.
"The debate regarding Liverpool's goalkeeper has raged for ages with different people having different opinions. The simple fact is neither is good enough—if they were Klopp would not be rotating them.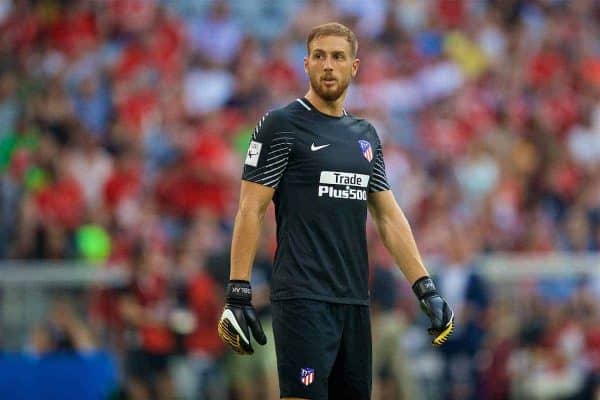 "An upgrade is required in that position. Get someone of the class of Oblak and that is instantly an extra five or six points a season, maybe more.
"Liverpool also need to upgrade in defensive midfield—Jordan Henderson is too injury-prone and simply not to the level required to fulfil that role. A good player but not a great one.
"A creative midfielder to fill the gap left by Coutinho is also required, so two midfielders plus Keita to fill the gaps left by Coutinho's departure plus the likely one of Emre Can, with Henderson relegated to a backup, should do the team in that area of the pitch.
"The attack is amazing, of course, but should Daniel Sturridge leave—as he needs to—then a striker will be needed, given Divock Origi is done and Dominic Solanke is still raw.
"So goalkeeper, two midfielders—one defensive, one creative—and a striker and Liverpool really will be in a position to challenge for the title next season.
"Most importantly, for that to happen they need to keep Klopp."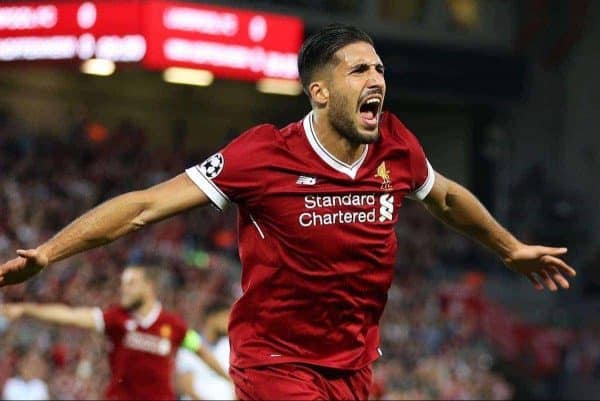 TIA's Jack Lusby feels a new deep-lying midfielder is a major priority, but agrees that something special could be on the horizon.
"Things feel a lot steadier following the signing of Van Dijk, and after inflicting City's first league defeat of the season the potential of Liverpool's attack without Coutinho is clear," he argued.
"The decision to opt for Karius over Mignolet as No. 1 goalkeeper is an abrupt one, but one that I am—for now at least—on board with. Give him the rest of the season to prove himself and, based on his performances for Mainz before joining, the problem between the sticks may be solved.
"Coutinho certainly still needs to be replaced, particularly if Klopp has ambitions of success in more than one competition, but the priority for me in terms of 'completing the jigsaw' is deeper in midfield.
"Signing a genuine, top-class defensive midfielder, capable of operating in a front-footed system, is the one move I feel can propel Liverpool further towards their goals, particularly if Can is to leave."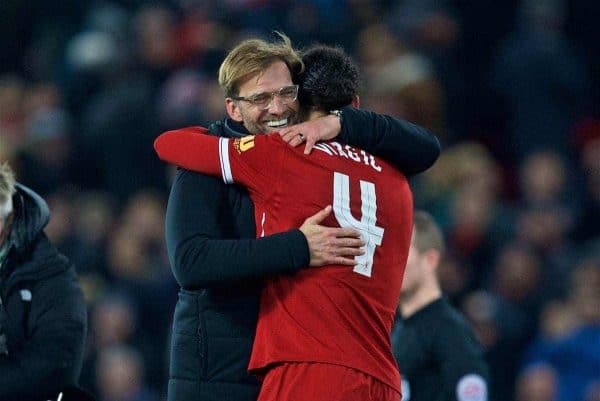 Let's just hope Klopp can go one better than his predecessors, creating a perfect Liverpool team, and ending that painful wait for Premier League glory in the coming years.
This Liverpool team is such a joy to watch—now let's add trophies to the entertainment value, as Klopp looks to complete his masterpiece.