Matchday 36 of the Premier League saw Chelsea play host to a rampant Liverpool side in a clash that was capable of influencing the race to a top 4 finish. Heading into this game, third-placed Liverpool (72 points) held a 6-point lead over fifth-placed Chelsea (66 points) with Tottenham Hotspur lurking in 4th (71 points)
With both teams playing desperately for a win, the match was always bound to be an exciting one with all eyes on Liverpool's blue-eyed boy, Mohamed Salah, who only needed one goal to break the Premier League record for the most goals scored in a single season – one that is currently jointly held by himself, Alan Shearer, Cristiano Ronaldo and Luis Suarez. Oh, what names to be among.
However, the Egyptian eventually played out a rare silent role as it was Chelsea's Olivier Giroud who scored the first and only goal of the game with an excellent header in the 32nd minute of the match, giving Chelsea a much-needed victory as well as all 3 points that were on offer.
As things stand, Liverpool are still 3rd on the table with 72 points from 37 games, with Tottenham (71 points from 36 games) and Chelsea (69 points from 36 games) snipping at their ankles.
The crucial victory last night has seemingly allowed Antonio Conte's men to open up the race yet again and with that said, here is a look at 3 things that went right for the Blues against Liverpool:
#3 Captain Cahill's bossing-the-defence performance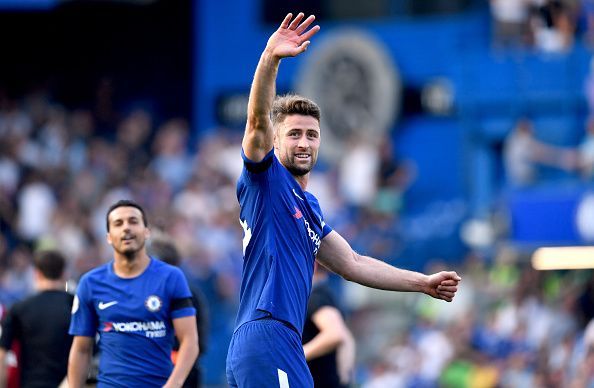 Tasked with the central slot in a back three against a raging Liverpool attack, Chelsea's captain courageous did a commendable job to hold his own against the likes of Roberto Firmino, Mohamed Salah and Sadio Mane.
The Englishman was the best of Chelsea's three centre-backs as he marshalled Cesar Azpilicueta and Antonio Rudiger with efficiency, thereby protecting Thibaut Courtois and the goal rather effectively.
Cahill garnered a total of 40 touches on the ball and made 27 passes. More importantly, he provided aerial solidity to the Blues as he won 6 duels in the air, rendering Liverpool's aerial threat obsolete.
Not a lot of teams have managed to tame Jurgen Klopp's Liverpool side this season, and the fact that Chelsea managed to do so last night is a true testament to how good their defence – and Gary Cahill, in specific – is.
#2 Silenced Mohamed Salah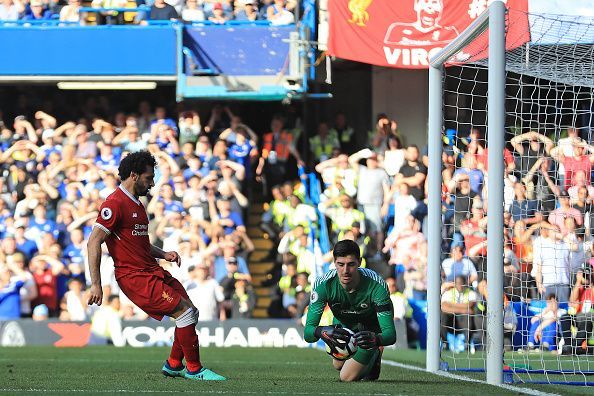 Just days after eliminating AS Roma in the semi-finals of the UEFA Champions League and sealing their place in the final, Liverpool entered last night's fixture with the spotlight on their sensational goal-machine, Mohamed Salah.
The Egyptian had the opportunity to sink yet another former club of his and with a plethora of records within his reach, many expected Salah to dazzle at the Stamford Bridge akin to how he has all season.
However, Liverpool's bargain signing had little effect on the game as Chelsea did an excellent job of hushing up the talismanic winger, who now only has one game left – against Brighton – to break the Premier League record
By the end of last night's game, Salah was only allowed a mere total of 34 touches of the ball, with which he could muster just 22 passes at a surprisingly poor passing accuracy of 64%.
Throughout the game, Salah was marked expertly and was also kept isolated at major junctures of the game, thereby nullifying the threat he posed. As a result, the 25-year-old could only manage 1 shot which failed to bother Thibaut Courtois as it wasn't even on target.
All in all, Antonio Conte and co. clearly recognised the danger that is Mo Salah, and were well prepared to handle everything their Merseysider opponents had to throw at them.
#1 Olivier Giroud steals the spotlight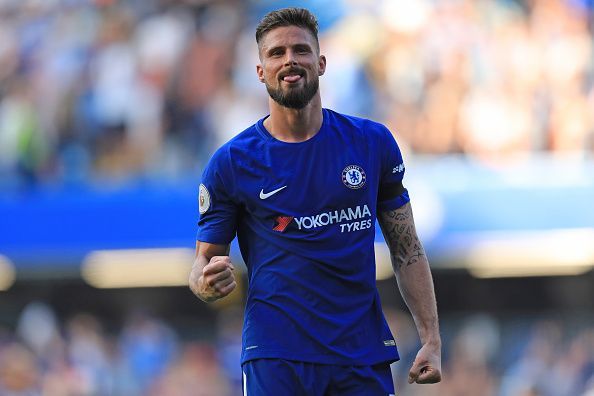 Ever since his brace within a span of 29 minutes against Southampton in Matchday 34 and Alvaro Morata's subsequent injury, things have begun to go Olivier Giroud's way as the Frenchman seems to be on a mission to stake quite a claim for a permanent slot in the starting 11.
In Morata's absence, Giroud was handed his third consecutive league start – for the first time this season – and the 31-year-old ensured that he didn't disappoint. 31 minutes into the game, Giroud got himself into the perfect position to put away Victor Moses' cross from the right wing as he powerfully headed the ball past Loris Karius and into the far end of the goal to give Chelsea the breakthrough.
All eyes may have been fixed on Salah in anticipation of a historical moment, but it was Olivier Giroud who made the most of the pressure (or lack thereof) on him, scoring a potential campaign-saving goal for his side and running away with the spotlight.
With the match ending 1-0, Giroud's goal eventually proved to be the difference on the night, giving Chelsea a glimmer of hope of finishing in the top 4 in what promises to be a thrilling climax of the 2017-18 Premier League season.
The former Arsenal star has now scored 4 goals in his last 5 games in Chelsea colours and seems to be enjoying his time under Antonio Conte. The man can score, his only problem has been inconsistency. If Conte can address that, Chelsea will certainly reap the benefits next season.